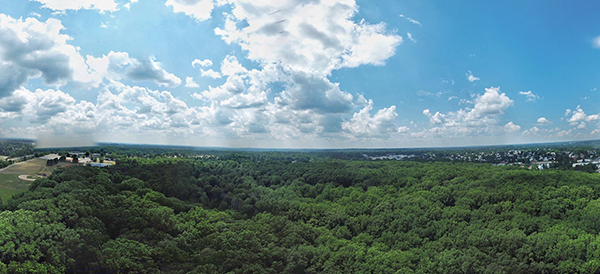 News:
The Economic Impact of Protected Open Space in Delaware County, Pennsylvania - April 2022
Delaware County Council Takes Next Step to Transform Don Guanella Site into the
County's Largest Public Park - March 2022
Delaware County Moves to Create Largest County-Owned Park - June 2021
Park Master Plan Advisory Committee
Do you live in Delaware County? Are you interested in helping Delco create our newest and largest county park? If so, here's your chance to participate in the Former Don Guanella Site Park Master Plan.
Delaware County is seeking about 15 residents from across the county with a variety of perspectives to serve on our advisory committee. The members will assist our consulting team to develop the plan for this 213-acre site located in Marple Township. The committee members will help establish the vision, goals, and plan for the park as one of our crown jewels for conservation, sustainability, and recreational use. Our goal is to form a diverse and inclusive committee that connects to the widest variety of people in Delco. The following factors are important to ensure that we create a park for all: place of residence within the county, age, gender, disability, religion, ethnicity, sexual identity, marital status, education, and occupation. The consulting team, along with county advisors will select the committee from online applications and potential interviews.
Please apply by Friday July 22, 2022, by clicking on the button below.
Master Plan Advisory Committee Application
Committee Roles, Duties, and Timeline
Master Plan Advisory Committee members will perform a variety of roles including but not limited to the following:
Advise - Committee members will represent the broad interests of the community and be advisers to the consultant team and Delaware County.
Enrich - Committee members will have specific knowledge or experiences to share with the consultant team and Delaware County to enrich the planning process.
Advocate - Committee members will be champions of the planning process and the former Don Guanella Site as a county park.
Engage - Committee members will be heavily involved in public outreach and engagement.
Lead - Committee members will lead with the assistance of the planning team
Serving on this Committee involves a commitment to attend about six to eight meetings and other public events to be determined. Meetings will be held at various times that will be established by the committee. Committee members should expect at least a two hour monthly commitment. Delaware County anticipates a completion of the planning process by May 2023.
Our consulting team and County advisors will evaluate applicants using the following criteria to ensure a broad and diverse cross-section of the community are represented:
Interest/specialization

Background (age, race, ethnicity, gender)

Geographic distribution

Experience or unique interests or abilities related to the project
Applications are due by Friday July 22, 2022. Our consulting team will conduct interviews in early August with selections in mid-August. The first committee meeting will be held soon after Labor Day. A workshop will also be held with applicants not selected as part of the 15-member committee to get their ideas, concerns, and perspectives on Delco's newest county park on the former Don Guanella site.