The County is developing a feasibility study for a trail connecting Smedley Park, Media Borough, and other destinations.
Public Meeting #2
In July, the Delaware County Planning Department will host a second public meeting for the Media-Smedley Connector Trail Feasibility Study.
The virtual public meeting will be held:
Tuesday, July 14, 2020,
at 6:00p.m.
The meeting joining link and info will be posted here.
Please save the website address for this page in your calendar and check back here.

The planning team will share a presentation with information about a proposed trail alignment and design proposals developed by the team in coordination with local stakeholder groups. There will be some time for public comment after the presentation. The presentation will also be posted here soon after the meeting, and the public will have the opportunity to send additional comments via email. 
Join us to learn more about this exciting opportunity!


Public Survey Results
This spring the project team conducted a public survey to engage residents about the feasibility of a potential Media-Smedley Trail. Thank you to everyone who participated. We had over 100 responses to our survey and gathered some valuable feedback. The information that was collected will help to shape the final report which is currently being drafted.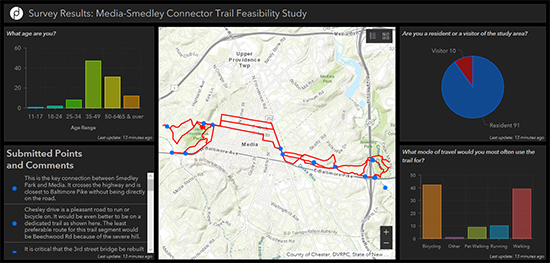 Click here to view Survey Results Dashboard

Project Summary
Delaware County was awarded a $35,000 grant from the Pennsylvania Department of Conservation and Natural Resources (DCNR) to prepare a feasibility study for the Media-Smedley Connector Trail. This trail, which was identified in the County's Open Space, Recreation, and Greenway Plan (2015), would serve as a major east-west connection in the countywide trail network. It has the potential to directly link three county parks, multiple local parks, and five municipalities, including Media Borough, the County seat.
The study process will include a review of previous planning efforts; physiographic, natural, and cultural features; structures within the corridor; utilities; intersections and access points; and potential environmental hazards. The final work product will be a written report identifying a potential route and detailing the associated feasibility and potential costs. A concept plan illustrating the location of the trail and all associated design features (e.g., parking trailheads, landscaping, bike racks, etc.) is also a critical work product.
The planning process is being conducted in close coordination with a study committee and local municipalities. It will also involve outreach to the community.


Public Meeting #1
The first public meeting for the Study was held on June 18, 2019 at the Media Community Center. Approximately 40 area residents and stakeholders attended the meeting learning about the project and providing ideas, comments, and information that will inform the study. Please see the following items for presentation, photos, and comments given at the meeting. If you were not able to attend the meeting or have additional comments on the project, you are encouraged to contact Planning staff using the information below.