Delaware County Planning Commission presents awards for outstanding development to Lansdowne and Swarthmore Boroughs.
Every year, the Delaware County Planning Commission recognizes land developments that employ innovative site designs and incorporate sustainable design principles that make efficient use of land resources. The William H. Bates Memorial Award for Outstanding Land Development honors excellence in site planning, development practices, and innovative land use techniques. At the Planning Commission meeting on September 15, the 2016 Bates Awards were presented to Lansdowne Borough and Swarthmore Borough.
Walgreens Center in Lansdowne Borough
Located on the southwest corner of Lansdowne and Baltimore Avenues, this redevelopment project integrates the adaptive re-use of an historic building into a modern commercial center. Preserving the monumental historic façade maintains the rhythm of the building line at this major intersection and contributes to the traditional downtown character of Lansdowne. The borough was able to work with the commercial tenant to adapt the space, enhance pedestrian access from the street, and make use of shared parking with adjacent commercial development rather than employing a typical auto-oriented commercial design formula. The project also promotes sustainability by affording residents walkable access to shopping and services within their community.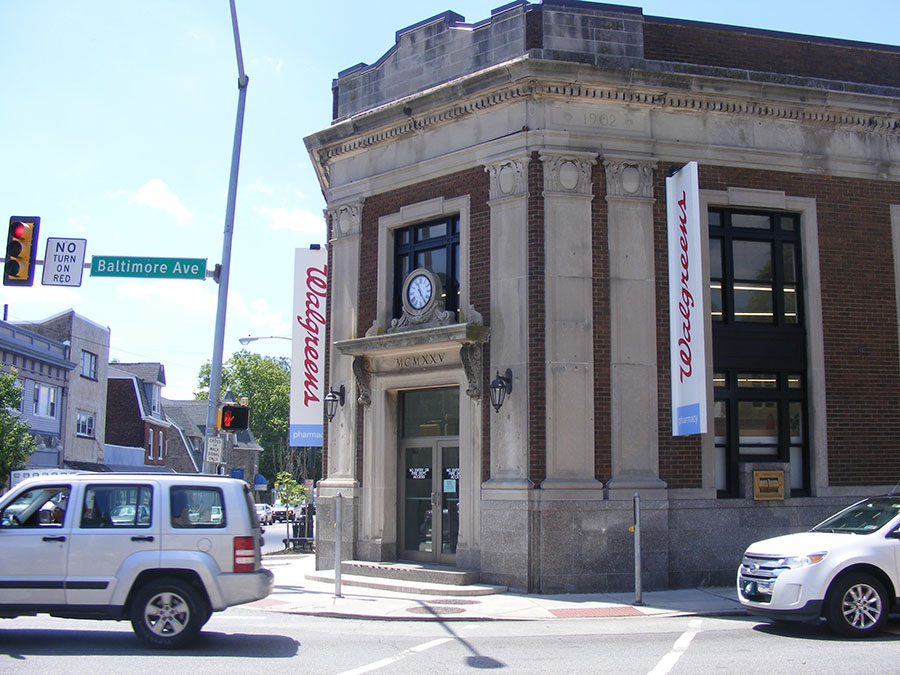 The historic bank building on the corner of Lansdowne and Baltimore Avenues was rehabilitated to house a Walgreens drug store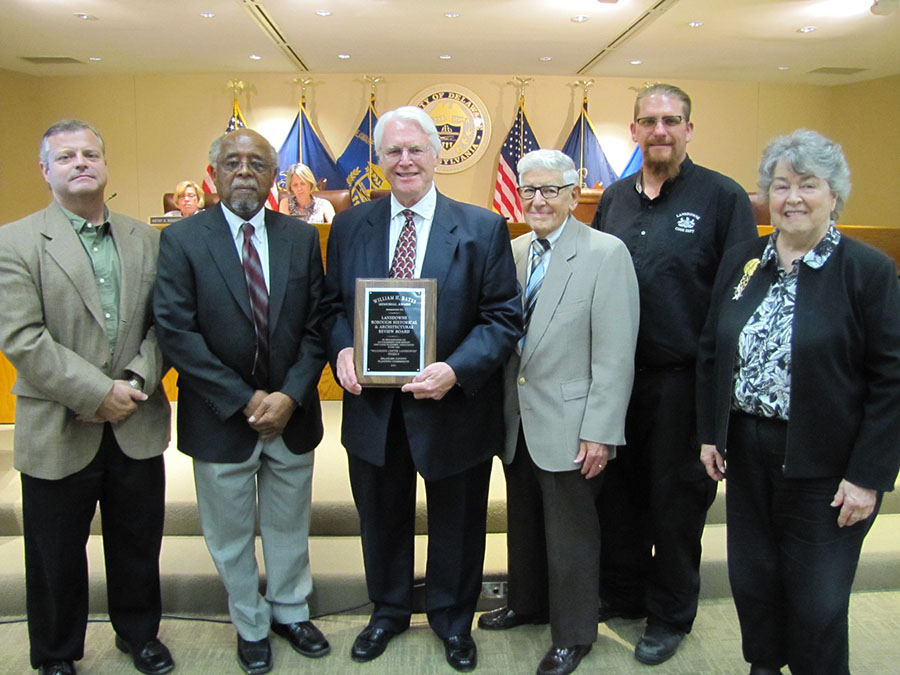 Presenting the Award to Lansdowne Borough. Pictured: William Smith, Lansdowne Planning Commission Chair; William Payne, Delaware County Planning Commission Chair; Gene Wayne, Lansdowne HARB Chair; Thomas Judge, Delaware County Planning Commission Vice Chair; John Gould III and Gloria Carpenter, Lansdowne HARB
Swarthmore Borough Town Center West
Located on the west side of Route 320 in downtown Swarthmore Borough, this project includes a new 40-room hotel, restaurant, and college bookstore within a development that utilizes traditional design principles reflective of and complementary to the borough's existing downtown. The construction of Town Center West was accompanied by a significant access redevelopment project on Route 320, a major north/south arterial road through Swarthmore. A new roundabout was incorporated at the gateway to downtown, featuring clearly-defined traffic lanes, pedestrian crossings, and ample green space, thereby rehabilitating a once-haphazard intersection.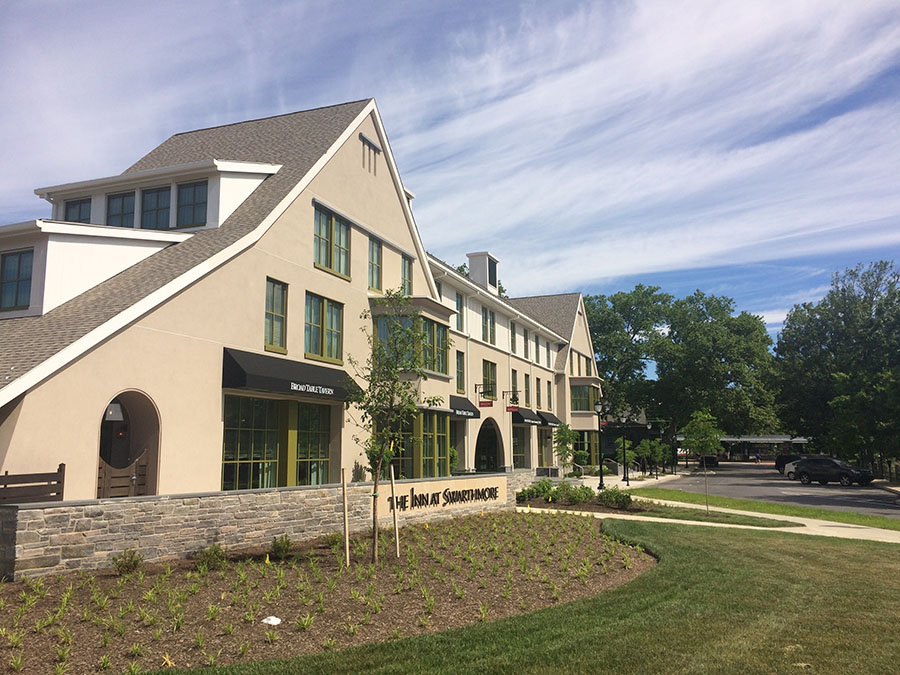 The Inn at Swarthmore, part of the Swarthmore Borough Town Center West development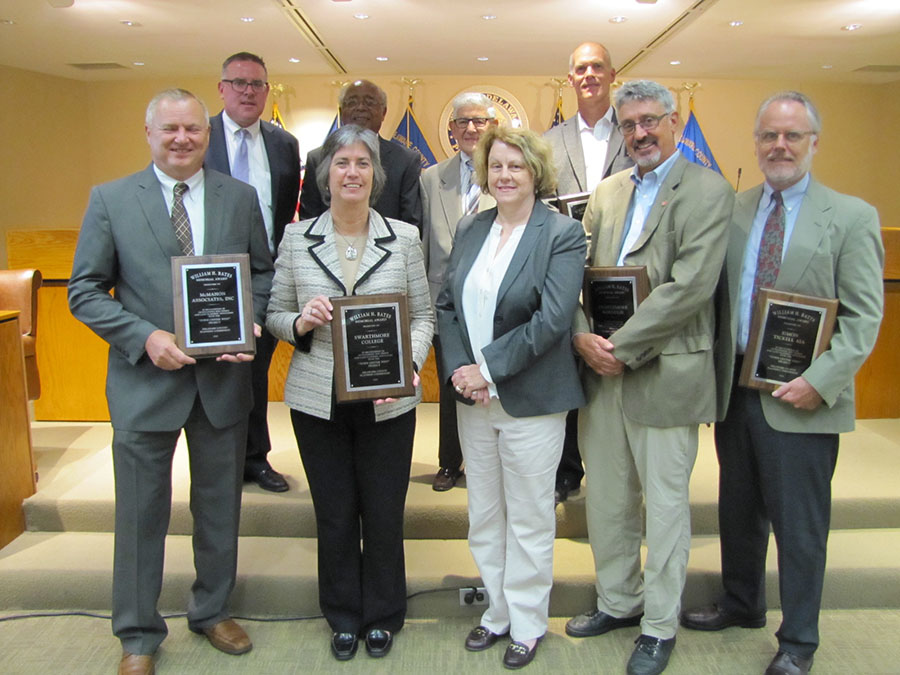 Presenting the award to Swarthmore Borough. Pictured, back row: Robert Scott; William Payne, Delaware County Planning Commission Chairman; Thomas Judge, Delaware County Planning Commission Vice Chairman; Stan Cairns. Front row: Joseph DiSantis, Janet Semler, Mary Walk, Tim Kearney, Simon Tickell
The Bates Awards were originally established in 1980 as the Outstanding Land Development Award and renamed in 1982 in honor of the late William H. Bates in recognition of 17 years of service to the Delaware County Planning Commission.
We encourage municipal officials, developers, engineers, and the public at large to nominate projects that they believe reflect exemplary on-site planning and development practices and the innovative use of land resources. Projects substantially completed during the past three years are eligible.
Every August, nominators are requested to submit names of nominees only. DCPD staff will then review the subdivision records for each proposed project. A committee of planning commission members and planning staff may request more information after it reviews the submissions. The full commission will make the final decision at one of its monthly public meetings in the fall.
For more information about the William H. Bates Award for Outstanding Land Development, contact the Planning Department at 610-891-5200 or email Planning_Department@co.delaware.pa.us.