Delaware County celebrated the opening of the newest section of the Darby Creek Trail in Upper Darby.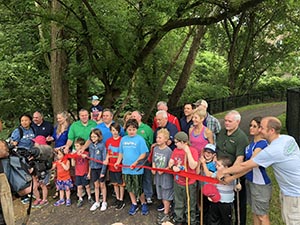 Delaware County Council joined Upper Darby Mayor Tom Micozzie on June 2, 2018 for the ribbon cutting and official opening of the Darby Creek Trail in Upper Darby.
Phase 1 of the project includes a one-mile trail along the Darby Creek from the Swedish Cabin to the Kent Park Dog Park. The location offers residents a place to walk, run or bike on the trail which runs along the scenic Darby Creek, in addition to enjoying a children's playground and dog park adjacent to the trail.
"Delaware County Council has been working with the county's Planning Department and Parks and Recreation to create 'a ribbon of green' and recreational trails along the Darby Creek for decades, beginning with conservation efforts that started back in the 1980s," said Delaware County Council Chairman John McBlain. "Open Space is a priority to council and we know that having green space brings social, environmental, economic, and health benefits to our residents and enhances their quality of life."
Eventually, the trail will connect north through Upper Darby, Haverford, and into Radnor. It will also follow the Darby Creek south through Clifton Heights, Lansdowne, Yeadon, and into Darby Borough where it will connect to the newest County Park at the recently acquired 33-acre Little Flower Manor site.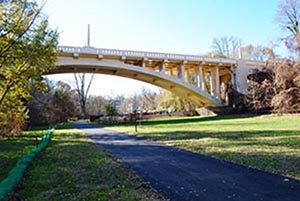 The Darby Creek Trail is an important segment of the county's Primary Trail Network, which is a countywide system of multi-use trails identified to connect recreational and cultural hubs across the County. It was identified in the Delaware County Open Space, Recreation, and Greenway Plan in 2015.
The Darby Creek Trail is also part of the Circuit, a vast regional trail network, composed of hundreds of miles of interconnected trails, that is growing in size each year. One of America's largest trail networks, the Circuit is currently composed of more than 300 miles of completed trails with a vision of completing 800 miles of trails across the nine-county region in Pennsylvania and New Jersey.
Delaware County received a $615,848 grant from DVRPC's Regional Trails Program, which is funded by a grant from the William Penn Foundation. The County committed additional funds to complete engineering and construction of this section of trail.
Questions about Darby Creek Trail? Contact the Planning Department at 610-891-5200 or Planning_Department@co.delaware.pa.us.