Proactive planning for community projects can create opportunities and lower implementation costs.
Planning ahead can help communities take advantage of opportunities to implement projects through efforts led by private developers or partner agencies, such as PennDOT and Transit Agencies. A good plan, with clear recommendations and a vision developed through community outreach, is important first step in moving projects forward.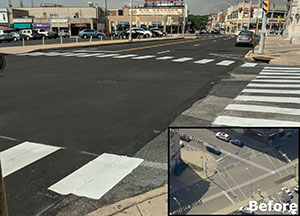 Upper Darby Township in Delaware County, for example, recently completed a study for the Garrett Road corridor. The study reviewed existing traffic patterns, pedestrian activity, transit service, and surrounding land use. During the planning process, which was led by Traffic Planning and Design, Inc., the Township and planning team became aware of PennDOT plans to resurface Garrett Road in the summer of 2018. The planning team and Township fast-tracked recommendations for a road diet and developed a new striping plan for driving lanes, turn lanes, crosswalks, and on-street parking. PennDOT incorporated the new striping pattern into its recently completed resurfacing project at no additional costs to the Township or to PennDOT. Thanks to the Township's proactive planning approach, Garrett Road is now safer and more efficient for all users. In fact, the report states that "travel simulations under the road diet conversion suggest that travel times for the majority of commuting motorists will improve during the peak hours." PennDOT hopes to have more successful examples like Garrett Road by coordinating more closely with local communities through PennDOT Connects, which aims to incorporate local planning efforts into PennDOT projects.
It isn't only the public sector that finds planning useful in speeding up projects. Private land development projects are also a great opportunity for communities to work with stakeholders to implement planned projects. Community plans can help to guide improvements to public infrastructure to ensure they build towards the community's vision. Media Borough's 2015 comprehensive plan identified the need to create a safer and more welcoming western gateway to the Borough. This plan provided clear direction to private developers that improvements to the intersection alignment and better pedestrian connections were a priority for the community. Subsequent development implemented an improved roadway alignment that is safer for pedestrians and drivers, while creating a gateway for Media.
Sound planning efforts and close coordination with stakeholders can set a clear vision for a project and provide communities with the foundation to take advantage of opportunities as they arise.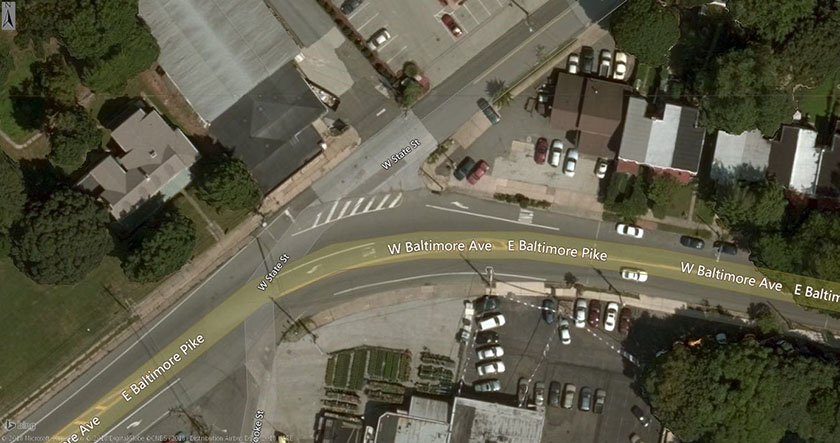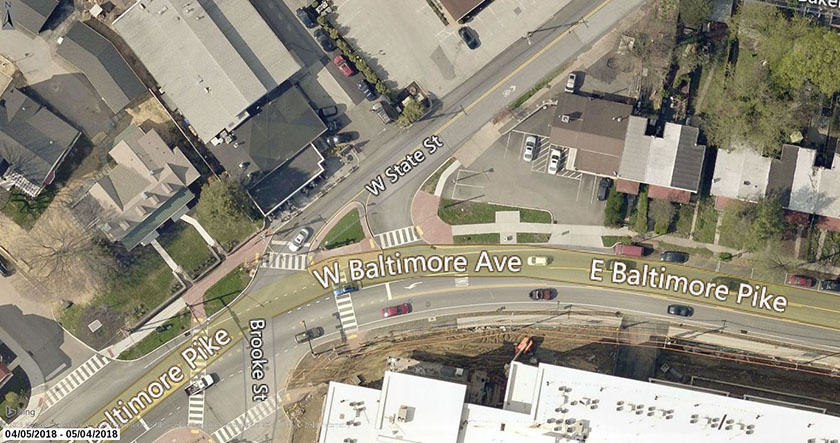 The Western Gateway to Media Borough now includes better pedestrian connections and a landscaped island (below) which improves on the previous (above).