Proactive planning for community projects can create opportunities and lower implementation costs.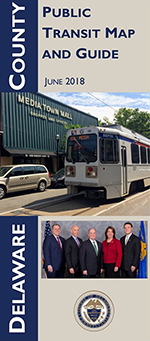 Delaware County residents enjoy access to a variety of transportation options offered by SEPTA. In order to assist residents in understanding the different SEPTA modes of transit and lines, the Delaware County Planning Department has completed the 4th edition of the Delaware County Public Transit Map and Guide, which serves as a reference to SEPTA's public transit system in Delaware County.
The new map includes: all bus, regional rail, trolley, and high-speed rail services in Delaware County and extensions to and from neighboring Chester and Montgomery Counties and the City of Philadelphia. The map also shows the locations of major employers, social services (housing, jobs/welfare, and Social Security), colleges, shopping centers, hospitals, state and county government office buildings, business centers and office parks, hotels and motels, senior care facilities, and parks and trails. Detailed inset maps include Media and areas surrounding the Darby, Chester, and 69th Street Transportation Centers.
The other side provides a guide to SEPTA fares and detailed information on Delaware County bus, trolley, high speed line, and regional rail routes, service, and stations. Information includes th frequency of service, the number of car and bicycle parking spaces at rail stations, fare prices, and on-board bicycle policies. There is also information provided for other transit partners (Community Transit of Delaware County and the Delaware County Transportation Management Association).
The Planning Department is delivering the maps to municipal government offices, libraries, major businesses, colleges and universities, school districts, hospitals, malls, hotels, SEPTA, nursing homes, and senior care facilities within Delaware County. Find your copy of the Map and Guide at these locations in your community. Please contact us if you have yet to receive copies to provide to the public or require additional copies to hand out.
For any questions or to receive a free copy of the Map and Guide, please contact Thomas Hastings, Senior Transportation Planner, at 610-891-5200 or hastingstm@co.delaware.pa.us.
Download a PDF of the Map here.

Download a PDF of the Guide here.