Delaware County Transit Report 2010 - 2011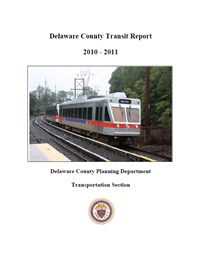 Date Published: January 2012
View PDF File [.6mb]
Abstract: The principal purpose of this report is to provide both the public and the wider planning community with an up-to-date account of all public transit services in Delaware County as of September 30, 2011, the end of the Federal Fiscal Year. Much of the data used in this report has been represented on a fiscal year basis rather than a calendar year. The detailed information available will still provide for a useful study to identify changes and trends between years. This document was produced using information from the Southeastern Pennsylvania Transportation Authority (SEPTA) to analyze fixed-route and Job Access/Reverse Commute (JARC) service, Community Transit of Delaware County, Inc. for paratransit services, and additional field viewing for ongoing project monitoring conducted by the Delaware County Planning Department (DCPD).
Geographic Area: Countywide
Questions about Department Publications? Contact the Planning Department at 610-891-5200 or Planning_Department@co.delaware.pa.us.