Growing from Within A Blueprint for Growth in Delaware County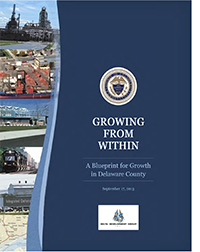 Date Published: September 2013
View PDF File [4.58 mb]
Abstract: Growing from Within is Delaware County's ten-year economic development strategy. The plan identifies major themes and emerging opportunities in the County and establishes strategic planning objectives. It provides an action plan for spurring economic growth by utilizing existing assets and creating new opportunities.
Geographic Area: Countywide
Questions about Department Publications? Contact the Planning Department at 610-891-5200 or Planning_Department@co.delaware.pa.us.