Delaware County 2011 Hazard Mitigation Plan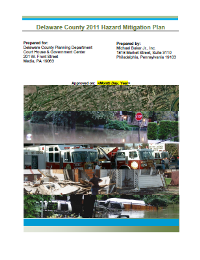 Date Published: 2011
Abstract: The Hazard Mitigation Plan studies the risks the County faces from natural and human-made disasters. It serves as a blueprint for reducing potential property damage or bodily harm. The County worked closely with municipalities and other planning partners create this Plan in accordance with FEMA and PEMA requirements.
Geographic Area: Countywide
Questions about Department Publications? Contact the Planning Department at 610-891-5200 or Planning_Department@co.delaware.pa.us.