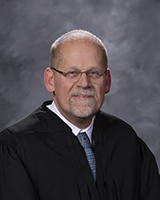 Judge Kevin F. Kelly was appointed to the court by Governor Tom Ridge and swore his Oath of Judicial Office on June 30, 2000. Judge Kelly was elected to a full ten-year term by the voters of Delaware County in November 2001. The electorate in 2011 voted to retain Judge Kelly for a second ten-year term.
Judge Kelly's public service career began in 1985 as a member of the Delaware County District Attorney's Office. An experienced prosecutor, Judge Kelly served as a staff or the supervising attorney in each of that office's divisions and units. During his tenure with the District Attorney's Office, Judge Kelly rose to the position of Deputy District Attorney and received numerous awards of professional recognition, including being named Outstanding Prosecutor of the Year by the Pennsylvania Criminal Investigators. Prior to leaving the District Attorney's Office to join the bench, he was the Chief of the office's Juvenile Delinquency and Pre-trial Divisions, as well as its Drug Enforcement Unit. While with the District Attorney's Office, Judge Kelly was regularly active in criminal justice education having been an instructor for a number of years at the Delaware County Municipal Police Academy and the mandated yearly continuing legal education of municipal police officers. He as well appeared as a lecturer at legal seminars and meetings sponsored by various professional associations and community groups.
Judge Kelly on joining the bench first served in the family courts and then for a number of years as the county's juvenile judge. In 2009, Judge Kelly became a member of the criminal courts and has also served from 2013 through June 2017 as the criminal courts liason judge.
In June 2017, Judge Kelly was unanimously elected as Delaware County's president judge by his fellow judges.
A life-long resident of Delaware County, Judge Kelly is a graduate of Haverford High School, Villanova University and Villanova University School of Law.