DELCO GREEN ways grant program
CONGRATULATIONS GREEN WAYS ROUND 2 AWARDEES!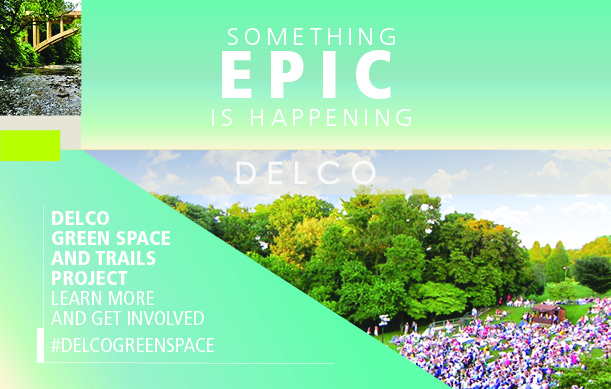 Something epic is happening in Delaware County. That's right, epic. The Delco Green Ways Grant Program is driving the future of green space, trails, and recreation for Delco residents while elevating the County's system as a unified whole. Thank you to all who took the time to apply for this easy and audacious grant opportunity.
We called for applications, and you delivered. The County received 74 grant applications totaling $13 million, which included representation by 46 of the 49 municipalities in Delaware County. Your message was heard: the people of Delaware County are thirsty for more and better green spaces, trails, parks and planning. The 2021 grant round was incredibly competitive with all grant-worthy projects. The review team thoroughly reviewed and deliberated over applications using the criteria developed by the Green Space Task Force and as described in the Users' Guide.
On October 5, Council received funding recommendations for projects at the $6.7M, $8M and $10M levels of funding. They voted to invest $7.2M to support impactful Green Ways projects throughout Delaware County. That's an allocation of over $1.7M more than the original reserved $5.5M for Grant Round 2!  There is a huge appetite for funds to make Conserve, Enhance, Connect and Planning & Design investments throughout Delco.
We are proud to share that 43 projects will be awarded funding, which includes one non-profit and 38 municipalities, totaling $7,172,521 invested throughout Delaware County.
The breakdown is:
All 16 Mini-PROS Plan applications are to be awarded, for a total of $722,850

9 Planning & Design applications are to be awarded, for a total of $848,315

6 Conserve applications are to be awarded, for a total of $2,186,477

6 Connect projects are to be funded, for a total of $1,990,809

6 Enhance projects are to be funded, for a total of $1,424,070
DELCO GREEN WAYS GRANT ROUND 2 AWARDS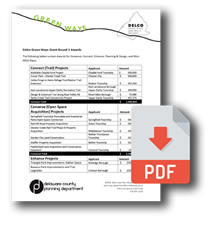 Download the "Delco Green Ways Grant Round 2 Awards" document for details regarding Conserve, Connect, Enhance, Planning & Design, and Mini-PROS Plans awards.
Let's all celebrate this transformative leap forward for Delaware County's people and places! Together we are strengthening and unifying Delco through Conserve, Enhance, Connect and thoughtful Planning & Design. We all benefit from a greener, more connected, modernized, and well planned County-wide system.  We applaud all who applied for Green Ways Round 2, and we encourage reapplication in the next grant round.  Thank you for sharing your passion projects with us and for participating in Delaware County's epic grant program.
GRANT ROUND 2 TIMELINE
June 16, 2021. Delaware County Council announces the opening of Grant Round 2.

June 17 – September 17, 2021. Application materials available on Delaware County's website.

July 13, 2021. 6:30 – 7:30 P.M. and July 14, 2021, 2:00 – 3:00 P.M. Zoom meetings for Questions and Answers about the grant round.

August 2021. Information about how to apply will be posted on the County website.

August 27, 2021 - September 17, 2021. Municipalities and non-profit organizations in partnership with a municipality may submit their applications.

August 31, 2021, 2:00 – 3:30 P.M. Question & Answer Session on Zoom.

September 17 – October 20, 2021. Delaware County Greenways Team evaluates and ranks applications.

October 5, 2021. Delaware County Council reviews Green Ways Team's recommendations and determines and announces grant awards.

October – December 2021. Delaware County Planning Department assists grantees with grant finalization, agreements, and technical support for moving forward.

January – May 2022. Grantees can pursue DCNR & DCED funding using county grant as match.


WANT TO LEARN MORE?

Delaware County's popular Delco Green Ways Grant Program concluded the open application period for Grant Round 2 on September 17. The review team looks forward to granting awards between October and December. If you missed the open application period, we encourage you to read on to get acquainted with the program so that you'll be ready for the next round. This is the best grant program around to help fund and complete your municipality's wish-list projects and provides an awesome opportunity to do something transformative for your community that also unifies Delaware County's green spaces, trails, parks and people. Review Grant Round 2 application materials here:
DELCO GREEN WAYS PROGRAM, HISTORY AND IMPACT
A recommendation of the 2016 Open Space Task Force, which moved County Council to authorize a $10 million bond allocation for open space in the County, which includes the Delco Green Ways grants to municipalities. Council is delivering on the commitment to invest in our shared spaces. Through this bond, the County has funded initiatives important to you and your community. With the June 16 announcement of Grant Round 2, more transformational projects are on their way to making a positive impact on your Delco experience.  
This program is seeding projects that will provide enormous benefit to you and your family:
Opportunities for residents to enjoy the health benefits of recreation in the great outdoors.
Ecological services provided by green space.
Strengthened community through shared connection and access to safe, outdoor spaces that allow for social distancing.
Economic activity and increased property values.
The inaugural grant round, with awards announced in October 2019, awarded $4.5 million –– leveraging $20 million in matching funds –– to support 102 acres of preserved green space, 7.3 miles of trail development, 18 parks and recreation improvements, and 8 professional services projects (planning, engineering, and/or design). Awards went to the 26 municipalities who applied, totaling 38 grants.
Table of Round 1 Awarded Projects
Map of Round 1 Grant Locations
The appetite for investment in public spaces has never been stronger as people seek refuge and connection during the COVID-19 pandemic. The County is enthusiastic about the opportunity to elevate and support the important planning and public works of each of the unique communities that comprise Delaware County.