DELCO GREEN ways grant program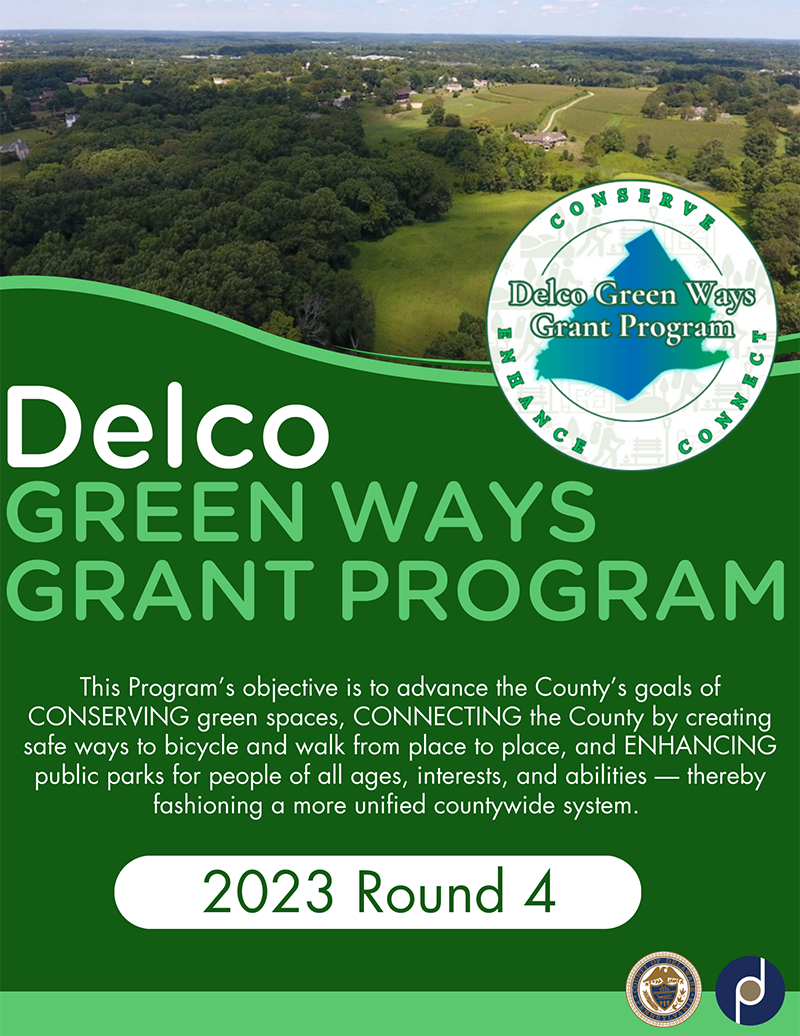 Impressive things are still happening in Delaware County! The Delco Green Ways Grant Program continues driving the future of open spaces, trails, and recreation for Delco residents, elevating the County's parks and open space system into a unified whole. The application period for Round 4's Delco Green Ways Grant Program is now CLOSED.
All municipalities in the County, and local non-profits working with a municipal partner, were eligible to apply for Round 4 grant funding between July 31 – September 29, 2023. Now the Grant Evaluation Team is hard at work, reviewing and ranking applications to develop award recommendations for County Council's consideration later this fall.
CHECK BACK HERE in December when County Council's award decisions are shared, along with more details about applications submitted and considered in this 4th round!
GRANT ROUND 4 SCHEDULE
July 31, 2023, Open application period for Round 4 of Delco Green Ways Grant Program l begins! All submission materials are available below.
September 7, 2023, and September 12, 2023, Information sessions for Questions and Answers about the grant round were held via Zoom.
Click here to view the slide show presentation
Click here to view the recorded session
September 29, 2023 at 5 PM, the Deadline for Round 4 Delco Green Ways Grant applications.
October 2023. Green Ways evaluation team reviews applications and prepares recommendations for Delaware County Council's consideration.
Late Fall, 2023. Delaware County Council will review the recommendations, make determinations and announce Round 4 grant awards at a subsequent public meeting.
Post Awards. Delaware County Planning Department assists grantees with finalizing grant agreements and provides technical support to move forward.
January – May 2024. Grantees may pursue DCNR & DCED funding using County grant as match.
Together we are strengthening and unifying Delco by CONSERVE-ing, ENHANCE-ing, CONNECT-ing and thoughtfully PLANNING & DESIGNING for our future. Everyone benefits from a greener, more connected, modernized, and well-planned County-wide system. We applaud all those who applied for previous Green Ways grants and encourage all municipalities and their partners to reapply for this next grant round.
View Delaware County Green Ways Round 4 Users Guide
want to learn more?
Delaware County's popular Delco Green Ways Grant Program is the best grant program around to help fund and complete your municipality's wish-list projects. It provides a breathtaking opportunity to do something transformative for your community while unifying Delaware County's green spaces, trails, parks and people.
To see additional background information, including examples of previously funded projects and County awards, please visit
Rounds 1,  2, and 3 of the Green Ways Grant Program!