Connectivity Ranking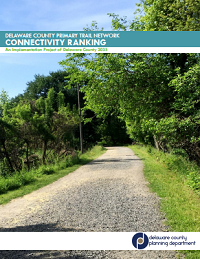 Date Published: October 2016
View PDF File [4mb]
Abstract: The Primary Trail Network is a countywide system of multi-use trails identified to connect recreational and cultural hubs across the County. The connectivity ranking, which measures the amount of connections a trail provides, emphasizes links between people and places. Trails are assigned a "connectivity ranking" based on proximity to people, schools, shopping, jobs, transit, and other criteria. This tool will help communities decide the most effective and impactful trail segments to pursue. The connectivity ranking process was not intended to create a list of set priorities; rather, it is objective data that can be used in conjunction with intangible information, such as community support, to inform planning and implementation efforts. This project is an implementation effort of the Open Space, Recreation, and Greenway Plan which is a component of the County's comprehensive plan – Delaware County 2035.
Geographic Area: Countywide
Questions about Department Publications? Contact the Planning Department at 610-891-5200 or Planning_Department@co.delaware.pa.us.