Delaware County Parks Signage Manual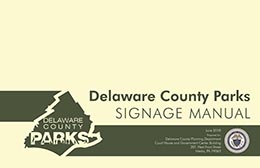 Date Published: June 2018
View PDF File [160mb]
Abstract: The Delaware County Parks Signage Manual establishes a brand for the County parks system through the use of a County Parks Department logo and a unified signage system. The document also contains a logo for the Mineral Hill Area parks. The Signage Manual recommends that all future signage in County parks utilize the designs contained in the plan.
Geographic Area: Countywide
Questions about Department Publications? Contact the Planning Department at 610-891-5200 or Planning_Department@co.delaware.pa.us.