Delaware River Watershed Conservation Plan
for the Delaware River Corridor and Naamans, Marcus Hook, and Stoney Creek Watersheds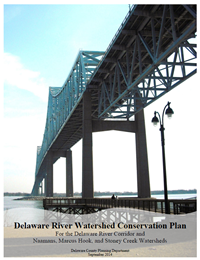 Date Published: September 2014
View PDF File [20.3mb]
View Executive Summary [.5mb]
Abstract:
The primary purpose of the Delaware River Watershed Conservation Plan is to address concerns and threats to the river's resources. The plan identifies river [watershed] resources and makes recommendations to guide watershed conservation, restoration, and enhancement efforts.
Geographic Area:
Aston Township, Bethel Township, Chester City, Chester Township, Eddystone Borough, Lower Chichester Township, Marcus Hook Borough, Ridley Township, Tinicum Township, Trainer Borough, Upper Chichester Township
For more information or to order this report, contact the Department at 610-891-5200 or Planning_Department@co.delaware.pa.us.