Delaware County Subdivision and Land Development Ordinance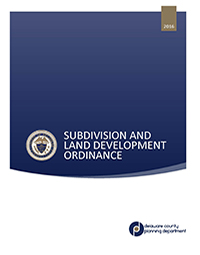 Date Published: August 3, 2016
View PDF File [1.0mb]
Abstract: The principal purpose of the Delaware County Subdivision and Land Development Ordinance (SALDO) is to protect the health, safety and welfare of residents of the County. This document establishes reasonable standards of design and procedures for the orderly layout and development of land. The current 2016 County Ordinance is the governing subdivision and land development document for 21 of the County's 49 municipalities. The August 3, 2016 adoption of this document replaced the previous 1981 SALDO.
This document and municipal ordinances are also available for download from the Governor's Center for Local Government Services to assist in the development of a Land Use Electronic Library (e-Library), http://elibrary. pacounties.org/Pages/default.aspx.
The Appendices of this SALDO can be downloaded individually:
A one-page guide for the new SALDO can be found here, which provides an overview of the subdivision and land development process and outlines the new Ordinance. Planning Department staff are available to present on the SALDO by contacting us at the information below.
Geographic Area: Countywide (unless a local SALDO has been enacted)

For more information or to order this report, contact the Department at 610-891-5200 or Planning_Department@co.delaware.pa.us.
Questions about Department Publications? Contact the Planning Department at 610-891-5200 or Planning_Department@co.delaware.pa.us.