Delaware County 2035 Economic Development Plan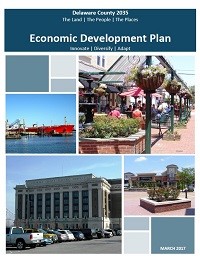 Date Published: March 2017
View PDF File [8.2mb]
View Executive Summary [8.8mb]
Abstract:
The Economic Development Plan outlines a long-range, placed-based strategy that builds upon the unique features of Delaware County. It identifies trends in industry, employment, and housing that affect the markets of the twenty-first century and connects them to an action plan tailored to the different types of places. The plan emphasizes the importance of maintaining the unique sense of place across the County as communities address the changing needs of a twenty-first-century economy. 
This plan is a component of Delaware County 2035, the County's comprehensive plan, and directly correlates with Growing from Within, the County's 10-year economic development strategy.
Geographic Area:
Countywide
For more information or to order this report, contact the Department at 610-891-5200 or Planning_Department@co.delaware.pa.us.