Delaware County 2035 Implementation Metrics Report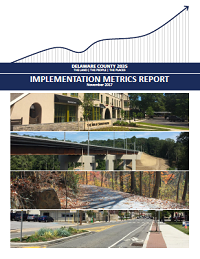 Date Published: November 2017
View PDF File [1.7mb]
Abstract: This report serves to measure the progress made in implementing Delaware County 2035, the County's comprehensive plan. It is important to note that Delaware County 2035 is a long-range planning document and that this Implementation Metrics Report is not a final report; rather, it is the beginning of a process that will continue to monitor implementation progress and success of these plans. Delaware County 2035 recognizes the importance of strengthening partnerships to work together towards implementation of these plans. The information presented within will help to guide the County and its partners in prioritizing strategies to reach the goals identified in each component.
Geographic Area: Countywide
For more information or to order this report, contact the Department at 610-891-5200 or Planning_Department@co.delaware.pa.us.