Delaware County 2035 Transportation Plan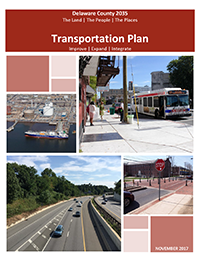 Date Published: December 2017
View PDF File [15.2mb]
View Executive Summary [9.2mb]
Abstract:
The Transportation Plan provides a unified long-range vision for the movement of people and goods in Delaware County. It identifies existing conditions and examines transportation trends to provide recommendations to improve, expand, and integrate the county's transportation network. The plan stresses the importance of creating a more multimodal transportation network that is safe, efficient, and reliable for all users.
This plan is a component of Delaware County 2035, the County's comprehensive plan.
Geographic Area:
Countywide
For more information or to order this report, contact the Department at 610-891-5200 or Planning_Department@co.delaware.pa.us.