Downtown Prospect Park Vision Plan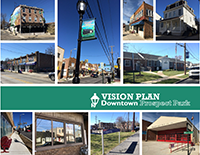 Date Published: June 2018
View PDF File [19.7mb]
View Summary [4.3mb]
Abstract: The Downtown Prospect Park Vision Plan provides a long-range vision for downtown Prospect Park that builds on recent efforts and current momentum in the community. The plan outlines a vision based on community input and provides a detailed implementation strategy.
Geographic Area: Prospect Park
Questions about Department Publications? Contact the Planning Department at 610-891-5200 or Planning_Department@co.delaware.pa.us.