Greenway Plan for the Darby Creek Watershed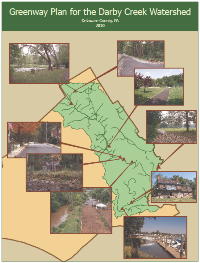 Date Published: May 2010
View PDF File [31.8mb]
Abstract: This Darby Creek Greenway Plan is an effort to provide a framework of hubs and spokes as a basis for establishing a greenway network. The purpose is to provide linkages between resources and people, creating a greenway for all people, promoting wellness, providing/utilizing alternative modes of transportation, and most importantly, directing focus on preservation and enhancement on the natural, cultural, and historic resources in the watershed.
Geographic Area: Aldan Borough, Clifton Heights Borough, Collingdale Borough, Colwyn Borough, Darby Borough, Darby Township, East Lansdowne Borough, Folcroft Borough, Glenolden Borough, Haverford Township, Lansdowne Borough, Marple Township, Millbourne Borough, Morton Borough, Newtown Township, Norwood Borough, Prospect Park Borough, Radnor Township, Ridley Park Borough, Rutledge Borough, Sharon Hill Borough, Springfield Township, Tinicum Township, Upper Darby Township, Yeadon Borough
Questions about Department Publications? Contact the Planning Department at 610-891-5200 or Planning_Department@co.delaware.pa.us.