Mineral Hill Area Parks Master Plan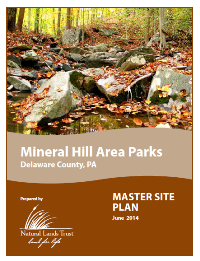 Date Published: June 2014
View PDF File [10mb]
View Site Plan PDF File [3.9mb]
Abstract: The Mineral Hill Area Parks Master Plan provides recommendations for the park's uses, site amenities, partnership and volunteer programs, monitoring and maintenance, and implementation priorities and phasing required to offer an excellent experience for park users while protecting the integrity of the site.
Geographic Area: Media Borough, Middletown Township, Upper Providence Township
Questions about Department Publications? Contact the Planning Department at 610-891-5200 or Planning_Department@co.delaware.pa.us.