Natural Heritage Inventory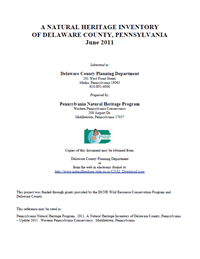 Date Published: June 2011
View PDF File [22.4mb]
Abstract: The Delaware County Natural Heritage Inventory (NHI) was developed for the County by the Western Pennsylvania Conservancy. Its purpose is to inform residents and local decision makers about the unique plants, animals, and habitats that are found throughout Delaware County.
Geographic Area: Countywide
Questions about Department Publications? Contact the Planning Department at 610-891-5200 or Planning_Department@co.delaware.pa.us.