Volume II: Countywide Greenway Plan
Delaware County Open Space, Recreation, and Greenway Plan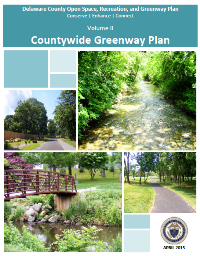 Date Published: April 2015
View PDF File [10.8mb]
Abstract: The Open Space, Recreation, and Greenway Plan serves as a guide and resource for countywide, multi-municipal, and municipal open space planning efforts. It examines the policies and trends identified in the Delaware County 2035 Land Use Framework Plan with particular regard to open space, recreation, and greenway needs and opportunities specific to the County. Volume II identifies a countywide Primary Trail Network which connects recreational and cultural hubs via trails, as well as conservation greenways along stream corridors.
Geographic Area: Countywide
For more information or to order this report, contact the Department at 610-891-5200 or Planning_Department@co.delaware.pa.us.