Delaware County Public History Feasibility Study and Implementation Plan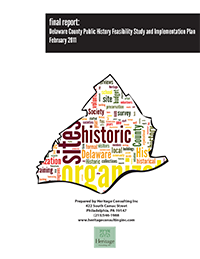 Date Published: February 2011
View PDF File [2.1mb]
Abstract: In 2009, the Delaware County Planning Department retained Heritage Consulting Inc. to undertake a year-long project called the Delaware County Public History Feasibility Study and Implementation Plan. The goal of the project was to determine how to best remedy the underutilized nature of historical organizations throughout the County and determine how these entities can better cooperate and coordinate efforts. One of the recommendations was the creation of a consortium of historical organizations that would work towards implementing the other recommendations of the Study through a grassroots effort. This led to the creation of the Delaware County Historic and Preservation Network.
Geographic Area: Countywide

Questions about Department Publications? Contact the Planning Department at 610-891-5200 or Planning_Department@co.delaware.pa.us.