Steps toward Walkability
Delaware County Sidewalk Inventory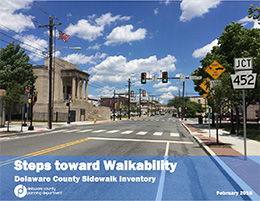 Date Published: February 2018
View PDF File [9.8mb]
View Executive Summary [.9mb]
Abstract: Steps toward Walkability: Delaware County Sidewalk Inventory utilizes countywide sidewalk coverage geographic information system (GIS) data to analyze sidewalk conditions, sidewalk connectivity, and walkability in Delaware County. Case studies from communities of several distinct types are examined, and recommendations to improve their pedestrian networks are provided. The report supports the implementation of Complete Streets that provide safe and comfortable access to destinations for all roadway users, regardless of physical ability or demographic background.
Geographic Area: Countywide
Questions about Department Publications? Contact the Planning Department at 610-891-5200 or Planning_Department@co.delaware.pa.us.