Strategic Landscapes Preservation Plan: Rearguard Defense and Strategic Retreat
Preserving the Brandywine Battlefield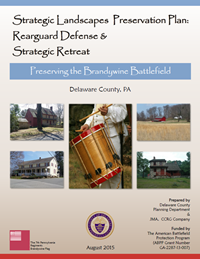 Date Published: August 2015
View PDF File [18mb]
View Executive Summary [2.1mb]
Abstract: The plan investigates the landscapes in which military actions occurred in Delaware County during the Revolutionary War's Battle of Brandywine, specifically a Strategic Retreat which took place in the area between Concord Meetinghouse and Thorntown and the Rearguard defense that was located near Dilworthtown. The document includes historical research, mapping, non-invasive archaeological analysis, and planning and interpretation strategies. Additionally, it explores how the battlefield can spur economic development efforts and reinforce historical organizations' existing educational outreach programming.
Geographic Area: Concord Township, Chadds Ford Township, Thornbury Township
Questions about Department Publications? Contact the Planning Department at 610-891-5200 or Planning_Department@co.delaware.pa.us.