Released: November 6, 2020
Manipulated video has been circulating online purporting to show Delaware County election staff fraudulently filling in blank ballots. The video was taken from the official live stream provided by Delaware County, however, the circulated video is zoomed in to crop out the surrounding area, including the bipartisan observers who were not more than six feet away and does not give the full picture of the process.
The cropped video portrays an election worker, seemingly alone at a table, marking a ballot. The actual video shows the election worker at a table with other coworkers in a room full of people with bipartisan observers a few feet away at each end of the table, closely observing the worker from approximately 6 feet away. This arrangement was agreed upon between the Election Bureau and the former Republican Chairman of Delaware County Council, acting in his capacity as counsel for the Delaware County Republican Party.
During the processing of ballots, a machine extractor opens the ballots. Some ballots were damaged by the extractor during this process in such a way that the ballots could not be scanned successfully. According to the scanner manufacturer, Hart, the best practice to deal with damaged ballots that cannot be scanned is to transcribe the votes on each ballot to a clean ballot and scan the clean ballot. In accordance with that guidance, the Chief Clerk of the Delaware County Bureau of Elections instructed elections staff to manually transcribe the damaged ballots. As ballots were being transcribed, the original damaged ballots were directly beside the new ballots and bipartisan observers witnessed the process at close range. Damaged ballots have been preserved.
The Delaware County Bureau of Elections has been offering a live-streaming of the counting of ballots, which began on Nov. 3. The video allows residents to watch the process in real-time and offers a transparent view of the process. Unfortunately, some residents have altered the video and are making false accusations, which baselessly and wrongly attacks the integrity of the election staff and the completely transparent process by which votes are being counted in Delaware County.
---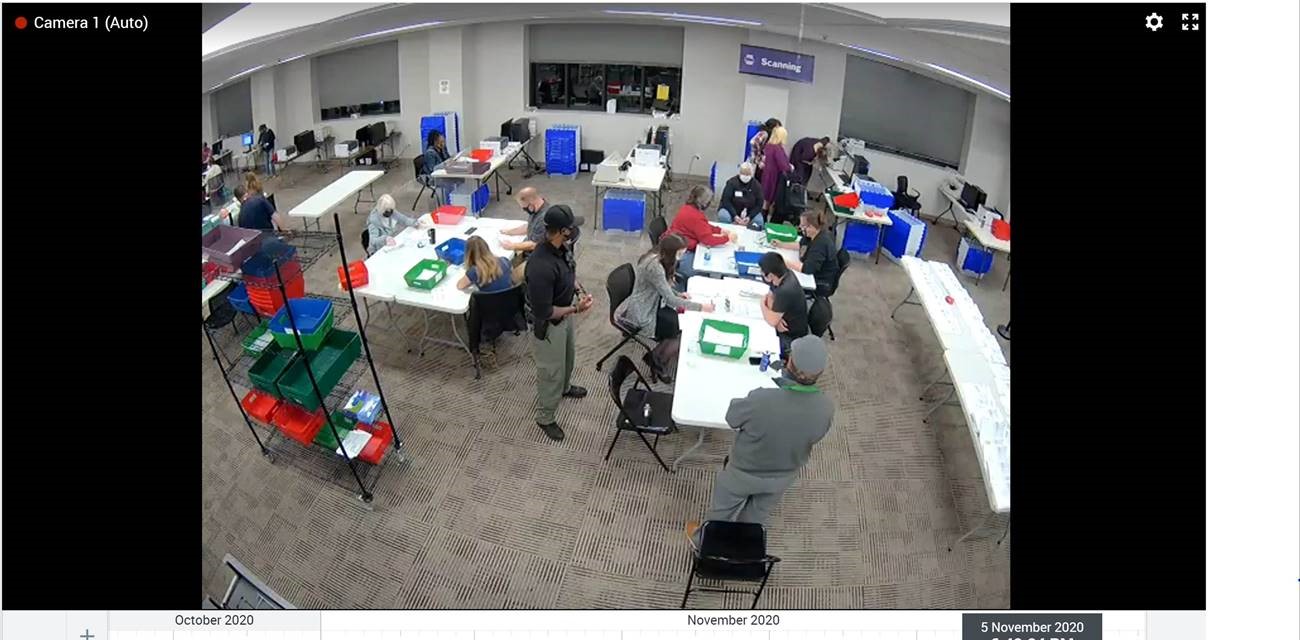 (The attached screen shot of the video shows the election worker at a table with other coworkers in a room full of people with bipartisan observers closely observing the worker.)