Released: February 9, 2021
Delaware County Government continues to receive a very limited amount of vaccine doses. To date, 152,000 people have pre-registered with Delaware County Government to receive the vaccine. The County only received 1,000 doses this week, allowing the County to only vaccinate half of those that were planned to be vaccinated. Due to the decrease in vaccine supply, the County combined vaccinations planned at the two County sites (Aston and Yeadon) into one this week. All vaccinations by County Government will be administered at the Aston site during the week of Feb. 8. The County has not yet been notified about the vaccine supply being sent from the State for next week's vaccination efforts.
Delaware County Government is currently administering the vaccine to individuals in Phase 1A and is opening appointments to match the supply. At the current level of vaccine doses that Delaware County Government is receiving from the State, it is estimated that 2,000 people in Phase 1A will receive the vaccine each week at clinics administered by Delaware County Government. As availability and delivery of the vaccine doses increase, so too will the number of people within Phase 1A that will be vaccinated each week.
Delaware County Government receives shipments of vaccine each week. Vaccine availability remains extremely limited and the number of doses received varies from week to week. That is why the County adds appointments only after the vaccine shipment is confirmed – to guarantee vaccine supply for everyone that is scheduled. If the County schedules people too far in advance, there is a risk of having to cancel appointments if the County does not receive enough vaccine supply from the State. By scheduling on a weekly basis, the County can ensure it is able to serve everyone who is scheduled to be vaccinated – both first dose and second dose.
For those receiving the COVID-19 vaccine from Delaware County Government at the Wellness Center in Yeadon or at the Aston Community Center- you will be asked to make an appointment for the second dose of vaccine at the time of receiving the first vaccine dose. If you have received the first dose of vaccine from a provider other than Delaware County Government, you will also book your second dose of the vaccine from that same provider. Delaware County is not administering second doses to those who received their first dose through another provider.
Delaware County Government is currently administering the Moderna vaccine, which is approved for use in individuals age 18 and older. Delaware County Government cannot administer the vaccine to anyone ages 16-17 at this time. Vaccines are free of charge and for people age 18 and older. The form to preregister can be found here: https://chesco.seamlessdocs.com/f/delcovac (link no longer active)
Additional vaccine sites have been secured throughout the county and will be opened as vaccine dose amounts sent to Delaware County Government increase. The County is working with all COVID-19 vaccine partners including hospitals, care homes, pharmacies, and eventually doctors' offices and urgent cares, to get the vaccine out as quickly as possible.
The chart below indicates the estimated number of people in Delaware County in each phase who are eligible to receive the vaccine, and the number that have, to date, been vaccinated by Delaware County Government.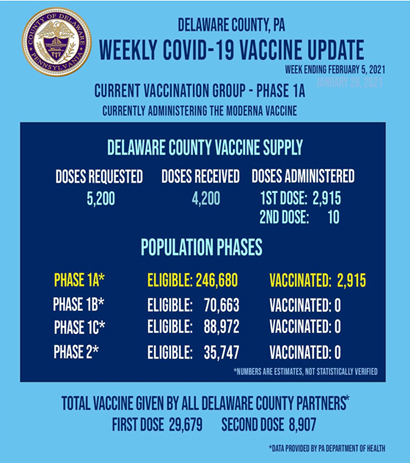 This number contributes to the total number of people vaccinated in Delaware County by all vaccine providers. As of Feb. 9, over 33,000 COVID-19 vaccines have been administered in Delaware County by all providers, including Delaware County Government. This number is closely aligned with the state average on a per capita basis.
Additional Vaccination Providers
Delaware County Government is one of several vaccine providers in the County.
The County encourages those in Phase 1A to look to other vaccine providers in addition to the County. The County is just one of several providers being sent vaccine supply from the state. There are limited appointments right now due to the extremely limited vaccine supply nationwide. Some providers are scheduling into the spring.
A list of other vaccine providers is available here: https://delcopa.gov/ich/resources/covid19/pdf/DelcoCOVID19VaccinationSites.pdf
This week, the Pennsylvania Department of Health added six new vaccine providers in Delaware County:
ATN Physicians and Associates in Havertown
Giant in Springfield
Giant in Aldan
Giant in Havertown
Rios Pharmacy in Morton
Springfield Pharmacy in Springfield
Delaware County COVID-19 Call Center
Delaware County has opened a COVID-19 Call Center to answer COVID-19 related questions including information on vaccines and testing. The COVID-19 Call Center will be open Monday through Friday, between the hours of 8:30 a.m. and 4:30 p.m. In addition to responding to phone calls, the Center will also respond to emails.
Phone: (484) 276-2100
Email: Covid19Resources@co.delaware.pa.us
A reminder - vaccination efforts for Delaware County are being coordinated through the Chester County Health Department. On March 19, 2020 Delaware County Council and Chester County Commissioners announced the approval by the Pennsylvania Department of Health, for Chester County to take the lead on Delaware County's COVID-19 public health response. The Intergovernmental Cooperation Agreement between Chester and Delaware Counties identifies the responsibilities of the Chester County Health Department during the COVID-19 outbreak, which will continue until federal and state partners determine there is no longer a pandemic outbreak. Those responsibilities include coordination of increased testing, case investigation and surveillance, quarantine designations and public health communication.