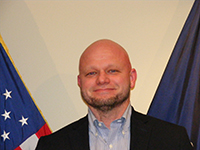 Brian was appointed to the Delaware County Planning Commission in 2019.
Brian has a history of public service. He has been a resident of Glenolden Borough for 37 years where he has served on the Interboro School Board as President. He has served at the Glenolden Youth Club for over 10 years and is a past board President. He has also held appointments to the Delaware County Animal Protection board. Brian was a founding member of the Eastern Delaware County Storm Water Collaborative, where he currently serves as Vice President and as the Treasurer to the Pollution Reduction Plan.
Brian is currently the Borough Manager of Glenolden and previously the Manager of Sharon Hill Borough. He has served as Health Officer to multiple municipalities in Delaware County. Brian is a UCC Certified Building Code Official and a Qualified Storm Water Inspector.
He is married with two sons and believes Delaware County is a great place to raise a family.