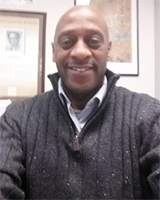 Peter was appointed to the Delaware County Planning Commission in 2021.
Peter is a lifelong resident of Delaware County and was raised and educated in the City of Chester.  He is a graduate of Chester High School.
Peter has been the Planning Director/ Zoning Officer for the City of Chester, PA since 2017.  In this role, he is responsible for enforcement of Chester City Ordinances. He oversees review and approval of zoning permit applications and review of subdivision and land development applications. Additionally, he is responsible for planning commission and zoning hearing board administration. Previously he held the position of Assistant Planning Director/Deputy Zoning Officer. Before his employment with the City of Chester, he served as the Community Program Coordinator for State Representative Thaddeus Kirkland's Chester District Office.  In that capacity, his responsibilities included planning and organizing community meetings and forums on behalf of the State Representative which included the annual "Across Colors Cultural Festival", and the annual Senior Christmas luncheon.
Retirement after 17 years in Commercial Banking opened the door to a new career in Social Service and Community Development.  Peter is the Founding Member, Treasurer, and Executive Director of the Asbury Social Outreach Center, Inc. in Chester, a non-profit social service organization created to empower Chester residents economically, socially, and educationally.  He currently serves on the Board of Directors of the Delaware Valley Regional Planning Commission and is the FY2021 Chairman of the DVRPC's Regional Technical Committee.  Peter is a member of the Delaware County Coastal Zone Task Force, an at large member of the Yeadon Zoning Hearing Board,  a former member of the Chester Over town Revitalization Committee, and a former member of the Lansdowne/Yeadon Elm Street Neighborhood Advisory Committee. In 2018, Peter was appointed to serve as an officer on the Delaware Basin Regional Water Resources Committee by Governor Tom Wolf.
He is a member of Asbury A.M.E Church in Chester and is a member of Phi Beta Sigma Fraternity.
Peter earned a Master's Degree in Community and Economic Development from Penn State University and a Bachelor's Degree in Economics from the University of Pittsburgh.
He currently resides in Yeadon.