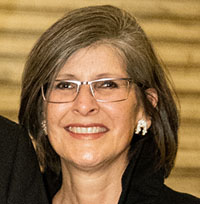 Claudia was nominated and began serving on the Delaware County Planning Commission in 2019 and named Chairman in 2021. She is an architect and principal in charge of CuetoKEARNEY Design, which was founded in 2004 and is located in Swarthmore. She has been practicing architecture for over 35 years with an emphasis on college and university work. She has a Bachelor of Science in Architecture from Catholic University in Washington D.C. and a Master of Architecture from the University of Pennsylvania.
Previously, she has served on the Board of Directors AIA Philadelphia and is a current member of the Carpenter's Company of Philadelphia. A registered architect in Pennsylvania and New Jersey, she is also a certified member of the Women's Business Enterprise National Council (WBENC) and Eastern Minority Supplier (MBE).
She and her husband have lived in Delaware County for over 20 years where they raised their two children together. During that time, she served on the board of the Swarthmore Zoning Hearing Board for five years, her last year as chair.
She understands the great effect that codes can have on people and community; architects deal not only with buildings but with the fabric of the community where a building project is located. Context is always a serious consideration and plays a major role in the success of a project.
Her personal experience, as well as her professional experience as an architect, makes her uniquely qualified for membership on the Planning Commission.