Delaware County 2035 Historic Preservation Plan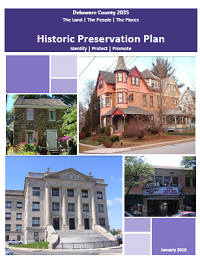 Date Published: January 2018
View PDF File [18.6mb]
View Executive Summary [6mb]
Abstract:
The Historic Preservation Plan intends to capture the essence of the variety of historic resources in the County and seeks to better understand how to best identify, prioritize, and protect them. The Plan incorporates information on known historic resources and countywide history, shares preservation planning strategies, and identifies actions that will further the role of the County and its municipalities as good stewards of our rich heritage, and help to incorporate historic resources into what makes our communities thrive.
This plan is a component of Delaware County 2035, the County's comprehensive plan.
Geographic Area:
Countywide
For more information or to order this report, contact the Department at 610-891-5200 or Planning_Department@co.delaware.pa.us.