Downtown Upper Darby Vision Plan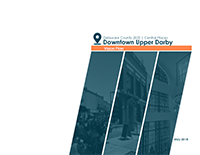 Date Published: May 2018
View PDF File [32.8mb]
View Executive Summary [27.1mb]
View Vision Summary [20.3mb]
Abstract: The Downtown Upper Darby Vision Plan is a long-range vision plan developed through community outreach to help guide future improvements. It is intended to build on recent efforts and current momentum in the community – not replace it. The plan helps to coordinate the efforts and vision of multiple stakeholders to keep working towards common goals.
Geographic Area: Upper Darby
Questions about Department Publications? Contact the Planning Department at 610-891-5200 or Planning_Department@co.delaware.pa.us.