EVERYTHING YOU NEED TO KNOW ABOUT BALLOT DROP BOXES
As part of Delaware County's efforts to mitigate the spread of COVID-19 and ensure a safe voting experience for Delaware County voters, multiple Ballot Drop Boxes have been installed in municipalities throughout Delaware County.
Update! The Delaware County Bureau of Elections has released an updated list 35 active ballot drop box locations. This is inclusive of 3 previously accessible boxes at our Voter Service Centers. As of 8 a.m., Tuesday, October 20, each of these 35 sites is active and accepting voted Delaware County Ballots. Ballot Drop Boxes at our Voter Service Centers have limited hours (see the links below for details)—all other ballot drop boxes are accessible 24/7.
---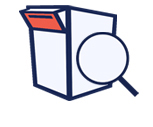 Where can I find a Ballot Drop Box?
Ballot Box Map [Updated 10/20]
List of Ballot Boxes [Updated 10/20]
Unlike the requirement that in-person voters must vote at a specific polling place, Delaware County voters are free to use any Ballot Drop Box in the County.
Use the links above to find a Ballot drop box convenient to you.
Reminder: Before you can vote, be sure that you are registered to vote. Visit our Voter Registration page for details. The deadline to register is October 19, 2020. If you are not sure if you are registered, use the online Voter Registration Status Check.
---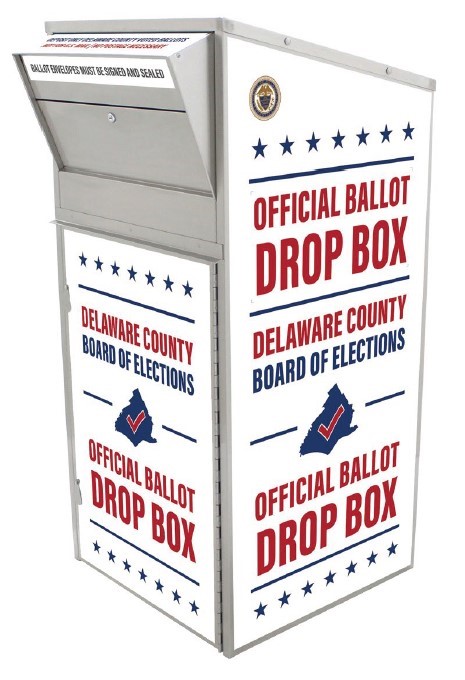 Ballot Drop Boxes: A Closer Look
Ballot Drop Boxes are roughly similar in size and appearance to United States Postal Service Mail Drop boxes (commonly referred to as 'blue boxes') and are distinguished by large red, white, and blue lettering that reads "Official Ballot Drop Box" and "Delaware County Board of Elections." Each box is affixed with the official Delaware County Seal.
Delaware Ballot Drop Boxes are intended to accept only Delaware County voted mail-in ballots and absentee ballots. No other materials will be accepted.
No postage is required.
All voted ballots must be enclosed in the secrecy envelope provided to you, sealed, and placed in the larger return envelope. The return envelope must be signed. If the ballot is not placed in the secrecy envelope or sealed properly, or the return envelope is not signed and sealed, the vote will not be counted.
Note: Return of a ballot by anyone other than the voter is prohibited unless the person returning the ballot is rendering assistance to a disabled voter or an emergency absentee voter. Such assistance requires a declaration signed by the voter and by the person rendering assistance. This form is listed below. It can be submitted in-person at a Voter Service Center or mailed to Delaware County Bureau of Elections, 201 W. Front St., Media, PA 19063.
Third Party Ballot Delivery for Mail Voting Form
Ballot Drop Boxes can be used 24 hours a day, 7 days a week from the date of operation through 8 p.m. on Election Day, Tuesday, November 3.
Note that all Ballot Drop Boxes are under 24/7 video surveillance. Counterfeiting, forging, tampering with, or destroying ballots is a second-degree misdemeanor pursuant to sections 1816 and 1817 of the Pennsylvania Election Code (25 P.S. §§ 3516 and 3517.
In the event that this receptacle is full, not functioning, or is damaged in any fashion, please contact the Bureau of Elections at (610) 891-VOTE or DelcoElection@co.delaware.pa.us.
Unlike the requirement that in-person voters must vote at a specific polling place, Delaware County voters are free to use any Ballot Drop Box in the County.