5/10 Update! Our list of Delaware County polling places has been updated to reflect several emergency changes. The following polling places have changed: Chester 1-4 & 2-1, Chester 2-3 & 2-4, Norwood 1, Radnor 5-1, Upper Darby 1-3 and Upper Darby 7-3. Please review the links below to ensure you have accurate information about your May 18 polling place.
IN-PERSON VOTING AT DELAWARE COUNTY POLLING PLACES
Election Day for the 2021 Municipal Primary is Tuesday, May 18. The polls are open from 7:00 a.m. to 8:00 p.m. If you are in line when the polls close, you are entitled to vote.
Please be sure to double-check the location of your polling place before you head out to vote. As a reminder, to vote in-person on election day you must go to your designated polling location.
---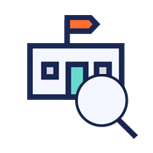 Where is my polling place?
Polling Place Look-Up Tool (updated 5/10)
Polling Place List [PDF] (updated 5/11)
Polling Place Map (updated 5/10)
---
IN-PERSON VOTING AT THE VOTER SERVICE CENTER
Delaware County registered voters can also cast their vote-by-mail ballot in-person at the Bureau of Elections' Voter Service Center at the Government Center Building in Media.
For more information, go to our Voter Service Centers web page.
---
IN-PERSON VOTING: PAPER BALLOTS
All Delaware County voters will vote using paper ballots. Most voters will hand-mark their ballots, while some voters — including disabled voters who do not have the ability to cast a hand-marked paper ballot — will use the Hart Verity Touch Writer to mark their ballot.
For more information, go to our Voting Instructions web page.
---
Delaware County utilizes the "Google Translate" service and accepts no liability for errors or omissions in any translation of the original English text.