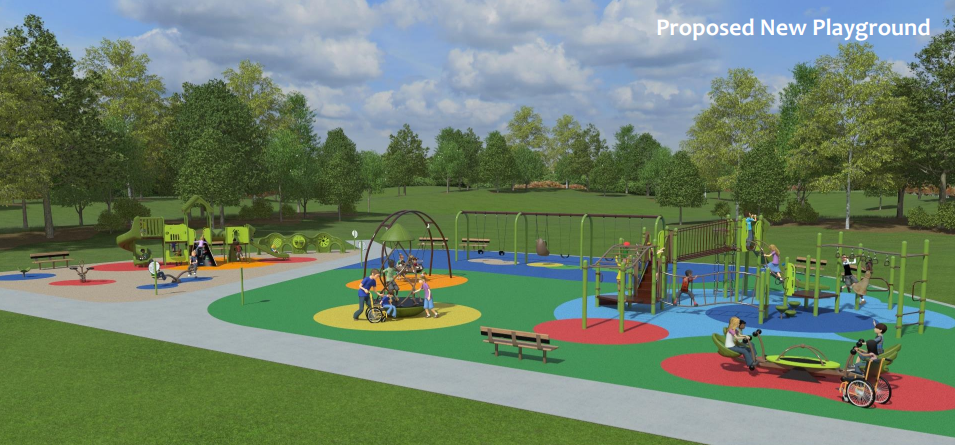 GROUNDBREAKING FOR THE NEW PLAYGROUND HAS BEGUN!
Learn about the exciting multi-phase improvements to Upland Park: Playground, Athletic Fields, Lighting, Walking Path.
Formerly called Camp Upland, this parcel of parkland was once owned by the Salvation Army and used for twenty-five years as a summer day camp for underprivileged youngsters. It was purchased by Delaware County in 1968.
With over sixty scenic acres, the park offers a great variety of activities such as a playground, wooded picnic groves, softball fields, and acres of woodland areas for leisurely relaxation or nature walks.
Redwood Community Center
Upland Park is the home of the Redwood Community Center, a county-operated facility which provides free activities each week for hundreds of local seniors. The Redwood offers a variety of entertaining programs, including senior social dances, country line dancing, Wii bowling, weekly exercise classes and more. Programs are held year-round, and monthly schedules are available on this page, at the Redwood Center, and from the Parks & Recreation Department. Ample free parking is available.
Redwood Spirit Week is coming soon!
Check out the Event Schedule.
2022 Redwood Spirit Week runs September 27-30!
Everyone is invited to attend any of the events.
Tuesday, Sept. 27th:
11:00 AM Health Seminars for the Baby Boomers. Topics: Fall Prevention & Bereavement Support. Lunch will be provided.
1:00 PM Karaoke with DJ Steve Kurtz.
Wednesday, Sept. 28th:
9:00 AM Upland Baptist Church weekly food bank.
1:00 PM Matter of Balance series (third session) with COSA.
4:00 PM Music Bingo hosted by Steve Kurtz.
Thursday, Sept. 29th:
5:00 PM Thursday Night Dance: Live performances by Steve Cofield and Sweet, and by Redwood Thursday Night Players (theater club). Dinner will be provided.
Friday, Sept. 30th:
12:00 PM Tai Chi class with Redwood Instructor Mary Ellen.
Contact
Redwood Center: 610-874-4598
Derrick Ford, Redwood Coordinator: 610-891-6061