Maintaining Your Historic Home A Practical Guide for Homeowners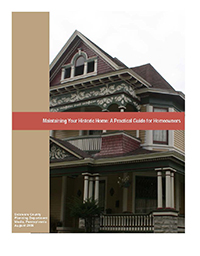 Date Published: February 2018
View PDF File [1.3mb]
Abstract: This guide functions as an instruction manual for the maintenance, repair and preservation of historic homes, and is targeted toward homeowners. The information within is applicable to all historic residential structures, not only those located in Delaware County. The guide is divided into six sections, each of which tackles specific aspects of historic home maintenance. They are: Roofs, Chimneys, and Gutter Systems; Walls and Foundations; Windows and Doors; Porches and Awnings; Landscapes; and Sustainability and Energy Efficiency. The document also outlines the material and structural differences between historic houses and modern houses, and the particular issues that are common to older homes.
Geographic Area: Countywide
Questions about Department Publications? Contact the Planning Department at 610-891-5200 or Planning_Department@co.delaware.pa.us.